hrRecruitment
Providing you with an independent, professional and proactive recruitment process.
For farming businesses who are seeking to fill a position, we offer hrRecruitment.
hrRecruitment provides you with an independent, professional approach while maintaining your engagement throughout the process.
Benefits
A recruitment plan that meets the needs of your business
We work in the industry that we are recruiting talent for and have an understanding of farming businesses
A professional recruitment process  which presents your business to potential candidates in an attractive manner
Ability to attract candidates that align with your culture and have sound strategic fit
Saves you time and the stress of finding a new employee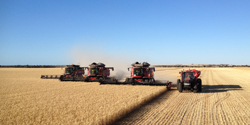 "Thank you for running our recruitment process. Initially I was unsure of the process of finding a new staff member. The process you provided gave us the right amount of input that was required and we definitely used your advice to secure the best staff member."
Ben Wundersitz, SA